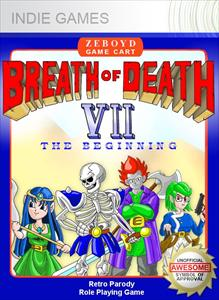 Zeboyd Entertainment is proud to announce their upcoming game, Breath of Death VII: The Beginning for the XBox 360. Join Dem the Skeleton Knight, Sara the Ghost Historian, Lita the Vampire Techie, and Erik the Zombie Prince as they explore a world filled with the undead, searching for the secrets of the past. Some game features include:
Fast turn-based combat!
Retro visuals reminiscent of the best of 8-bit & 16-bit RPGs!
720p!
World map filled with several dungeons & locations to explore!
Frequent LVing up with a deep, yet easy to understand character upgrade system!
Special multi-character techniques & a combo count system add strategic depth to combat!
All this for the low, low price of 80 MS points ($1 USD)!
Breath of Death VII will be coming to XBox Live Indie Games in March-April of 2010.